Captain David Howitt
The skipper, USCG 100 ton licensed Captain, San Juan Island Fire and Rescue
My parents told me I was born on a beach and I know the trail to that beach was well trodden by a line of pirates, wreckers and smugglers. The rugged coastline of Cornwall was a dynamic place to grow up and explore. I sought to capture those experiences of crashing winter storm waves, granite cliffs and summertime emerald green snorkeling days through photography.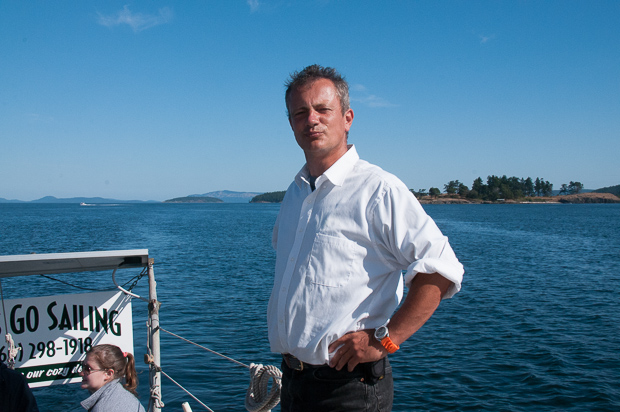 I escaped from photography school to volunteer in a fiery ships engine room with the motley crew of the Sea Shepherd Conservation Society. And so began a long line of sea adventures across the planets oceans from Iceland to Alaska, saving whales from commercial hunting and rescuing critters from oil spills.
The highlight of my travels were the years on the waters of North Vancouver Island setting equipment to listen in on the world of Orca acoustics. I'm forever grateful for the time at Orcalab. The ability to listen to their underwater world is mesmerizing. With time it's possible to tell which whales are calling and decipher the social dynamics of their busy lives.
The more we learn of our natural world, (or in my case become more enthralled with wonder), the more likely we are to protect what we're losing. It is with this in mind that I am keen to share experiences, images and sounds. The sailing boat Peniel allows me to take others into that environment, to witness and connect with the life of this planet and hear what they have to say.
Naturalist Co-Captain Barbara Howitt
Barbara joined the crew in 2015 after 4 years working with the Center for Whale Research. With the keen eye of an eagle she has focus and presence to recognize and relay the wildlife we see.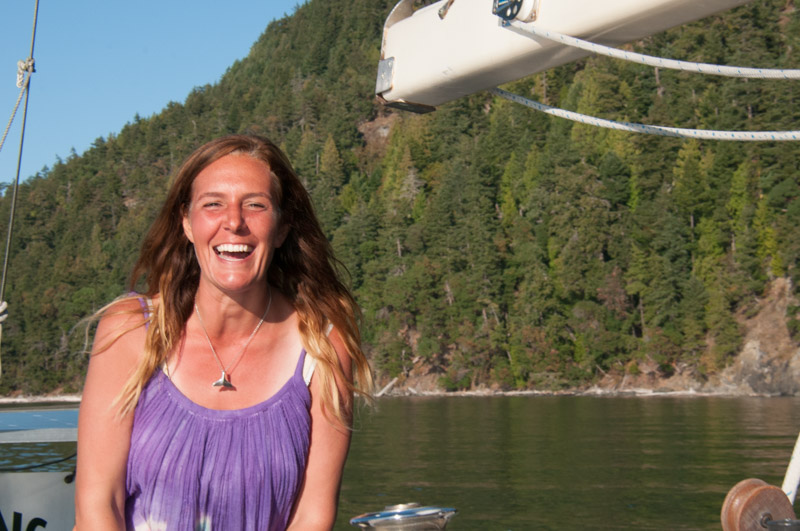 They're not just whales to Barbara but individuals with families. Being able to recognize their distinctive qualities helps us understand their stories and observe the dynamics in their interactions.
Her knowledge helps in capturing stunning photographs which she offers to our passengers. Engaging with our guests we all feel at home.
Qualified as a Captain she takes the helm while I cook supper in the galley and finds a protect area to drift for a Dinner Cruise.
Sailing Vessel 'Peniel' –
A William Garden design wood boat for the Pacific Northwest built by the Prothero brothers, Seattle, 1956
Many folks ask about the boats name. Traditionally boats do not change their names. It would confuse the old timers who have known this classic boat for the last sixty years. Confusing Neptune: similarly not a good idea.
Peniel came to me with a curious old book of sepia photographs. Recorded are the first thoughts of her designer, the drafting through to the building, from the first un-carved block to her launching in Lake Union, Seattle.
Included in the book is a story of Jacob of the Old Testament wrestling all night long with a burly angel with massive wings. It was the night before Jacob was due to meet under uncertain terms with his brother approaching with a threatening army.
Every sailor of long voyages has seen a dark night where survival of a severe storm becomes questionable. It's a humbling feeling: fear, struggle, exhaustion, acceptance, followed by immense gratitude with the coming of the dawn as we find we've survived. In the same manner Jacob is said to have wrestled through the night, "seen the face of God and survived". He named that place Peniel.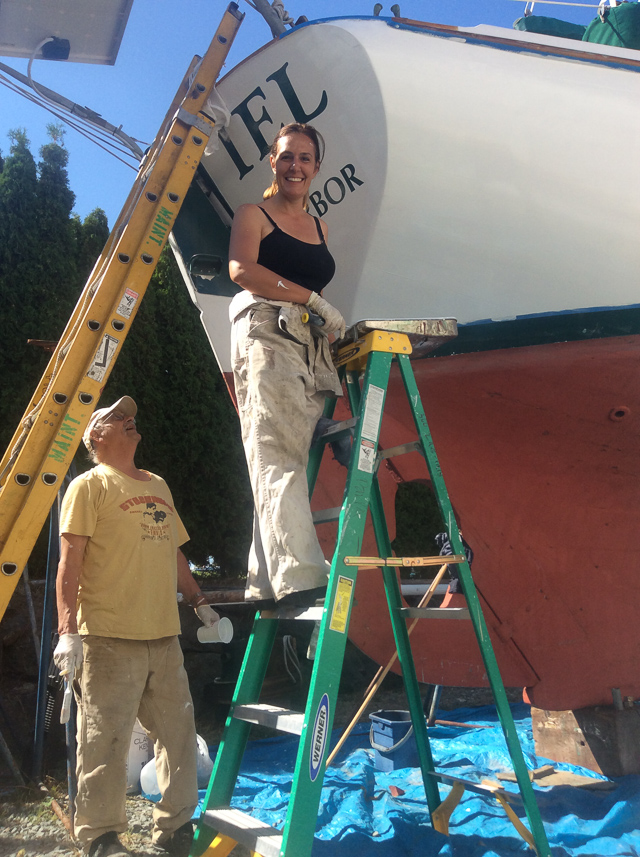 Restoration of Peniel took place in Jensens Boatyard Friday Harbor and Emerald Marine Anacortes. She is well suited for the Pacific Northwest offering comfort and protection for both summer and winter extreme sailing conditions. Confidently pushing seven knots to windward is not uncommon. Changing headsails and reefing she remains comfortable sailing in windspeeds of 35-40 knots.
The diesel stove below is a constant source of warmth in winter months. The galley is well equipped, and the pilot house gives perfect shelter in adverse conditions. The cockpit is large enough for Eight. The flush foredeck suited for carrying paddleboards, kayaks or dive gear. In times of no wind where a destination goal outweighs the option of drifting the 85 HP Diesel gets us where we want to go with a speed of 8 knots. Her towed 25 HP 'Bullfrog' tender opens many options including anchorage and going ashore on remote islands.
Deign: William Garden, 42′ Pilothouse Sloop, Large Aft Cockpit and Flush Foredeck
Built: 1956, Prothero Brothers Lake Union, Seattle Alaska Yellow Cedar Planks, Steam Bent Oak Frames, Ironbark, Spruce Mast.
Length 42′, Beam 11'5″, Draft 5'6″
85 HP Perkins Diesel, 60 lb Anchor, Galley, Sleeps 4-6
200 Gallon Diesel Tank for Ketchikan or San Francisco Without Stopping
25HP Bullfrog Tender