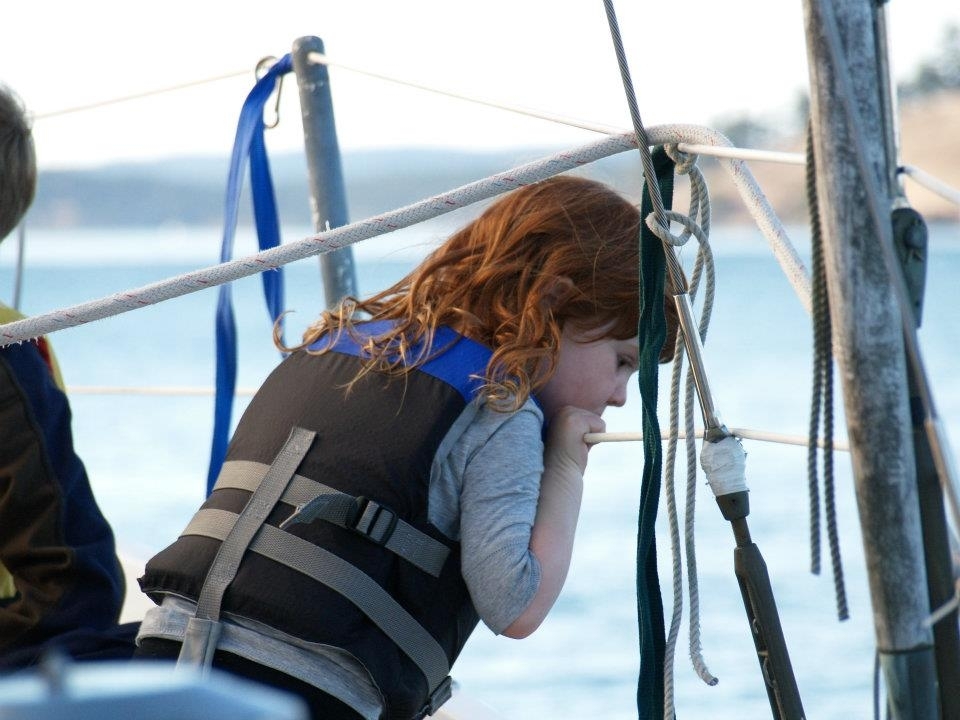 Sailing With Us –
Every tour with Captain David and Captain Barbara is a different adventure. Rising and falling tidal and seasonal cycles develop a rhythm for all coastal life. The weather changes, lunar cycles, tides, currents, winds, waves and the lives of the ocean and coastline inhabitants are all connected and all constantly changing. And so with every breath of salt sprayed air that we take we experience something different.
We can adjust to the level at which you're ready to adventure, to heel over with the boat and be part of the dynamics of nature. Your confidence will grow as you become accustomed to the dynamics of sailing in the Pacific Northwest. In a short time we feel connected to the ocean and linked to the life which flourishes here, present and amazed as the complex lives of whales, sea lions, seals, eagles, diving sea birds and salmon unfolds around us on our journey. 
Photography cruises, family activities for life long memories, kids educational adventures to remember. Scrumptious barbecued salmon and veggie dinner cruises as an option on full day and evening sails. Whale watching with class – we'll be listening into their world. Our background is from many years of continuing whale research.
Full Day Sails
Our most popular sailing trips are our full day sails of 8/9 hours. Departure times change seasonally and by request. To include the changing light as the sun sets adds spectacular variety to the day. Orca Whales travel over 100 miles each day – even when they're first born. So to sail with whales involves communicating within our PWWA group and plotting a course based on our experience of their likely behaviour. A full day sail gives us the best chance of including time with whales in our sail.
On days when the whales are believed to be outside of our area we may tow our stable Bullfrog tender to include visits ashore on remote places such as Yellow Island or Patos – famous for native wildflowers abundant in Spring. Wind conditions and currents change at every channel and point. Changing sails includes using 'the Iron Genny' to cover ground and at other times shutting everything down and drifting in current along forested shorelines. We like to include variety. 
Typical Full Day Sailing Charters include but are not limited to:
Circumnavigate San Juan Island, particularly when the Resident Orcas are fishing the west side
Patos Island via Flattop and Skipjack. Some trips we'll take time ashore to follow the trail to Alden Point lighthouse
Lovers Leap – Turn Point and around Stuart Island into Boundary Pass – often connects us with whales 
Iceberg Point and Castle Island – Lopez Island, Minke whales and bird watching, opportunities to go ashore  
Half Day Sails 
Half day sails of 4/5 hours we choose North or South but not both. North will take us into The Cactus Islands and Flattop Island with beautiful geology and Harbor Seal haul-outs. South will take us to Whale Rocks and the Stellar Sea Lions and possibly touch False Bay if Orca Whales are fishing there. We do see Humpbacks and Orca Whales but not as often and more by chance compared to the Full Day Sails. We can also choose East and circumnavigate Shaw Island for a sunset sail through Wasp Pass.
Typical Half-Day Sailing Adventures Include:
Whale Rocks Stellar Sea lion haul-out and Salmon Bank to False bay where we can see Orcas on occasion
Flattop to Cactus Islands and around Speiden looking first into Boundary Pass and then Haro Strait; a wildlife search between islands of spectacular geology and coastal forests
The Nitty Gritty
Full Day 8/9 hour Sails, (including the 8.3% Wa sales Tax), we offer at $180/person or $900 for the whole boat. Full day sails allow enough time to circumnavigate islands and have significantly higher chance of sailing with whales.
Half Day 4/5 hour Sails, (including the 8.3% Wa Sales Tax), we offer at $130/person or $650 for the whole boat (6 Passenger maximum)
Short sails, 3 hours, $100/person, $500 full boat. About 1:30 chance of whales on a short sail but we do experience sailing in a maze of islands and see their inhabitants of Harbor Seals, Eagles, King fishers, Black Oyster Catchers, Shy Harbor Porpoise and on occasion bump into a humpback whale or family of Transient Orca. Short sails work well for morning visits to anchor and go ashore on Yellow Island.
We prefer payment by cheque payable to All Aboard Sailing on the day of the sail. Credit/debit cards we need to add 4% bank fee. Paypal works as well as cash and gold. 
Peniel has a fully equipped galley with kitchenware, cutlery, bottle openers, water, a fridge and such. Feel free to bring your own beverages and snacks. Many folks rave about our barbecued salmon/steelhead/halibut which we cook on full day and half day evening sails – let us know if you'd like us to shop for supper at $25/person
Peniel is docked with other tour boats at Spring Street Landing, a two minute walk from the main ferry dock and near to the Victoria Clipper (coming in from Seattle). Day visitors: consider leaving your vehicle in Anacortes. You may find three day parking on Warbass Way and one day parking at the top of First Street (up passed the Whale Museum).
 Almost all trips include volunteer naturalist Capt. Barbara Howitt. Trips are well covered in photography though bringing a camera is recommended. We can share our favorite photographs of the day by email to you – gallery quality prints are available. When conditions allow we use a hydrophone, an underwater microphone, to listen to the whales vocalistaions.  
Our photographs are taken using a 300mm zoom lens. Maintaining respect with a plan of non-obtrusive whale watching is paramount to the best experience for everyone. We follow the 'Be Whale Wise' Federal Regulations for distance and vessel protocol.
Wear layers and a hat. Particularly if you're coming from Texas or a southern state – it's chilly on the water in the Pacific North West near sunset. Long trousers and socks beat shorts and sandals. Thin wool layers are traditional wear, a windbreaker jacket is your friend. We do have mustang suits and blankets, cups of tea and heat below. It's easier to stay warn than warm up when you're cold.
Our trips are posted on Facebook – check it out, hit like, follow us – we love to stay in touch.  
Cancellation policy
It can be helpful if you let us know: where you are staying, which ferry you're catching, if you have to be back at a particular time and a way to contact you.  The first reason for this is we can call you if there are whales on our doorstep. The second is this gives us confidence that you are coming without the need to collect folks credit card information as a deposit. If you have a change of plans be sure to let us know as soon as possible to allow another person this opportunity. Cancellations with less than 24 hours and no shows will be billed at the full price. No charge for cancellations due to stormy weather.